Travel information
The 7th IVS General Meeting will take place on March 4-9 2012, at the auditorium of the "Centro de Estudios de Tecnicas Aplicadas" shown in the map. This is near the premises of the Royal Observatory of Madrid, which is at walking distance from the Atocha train station.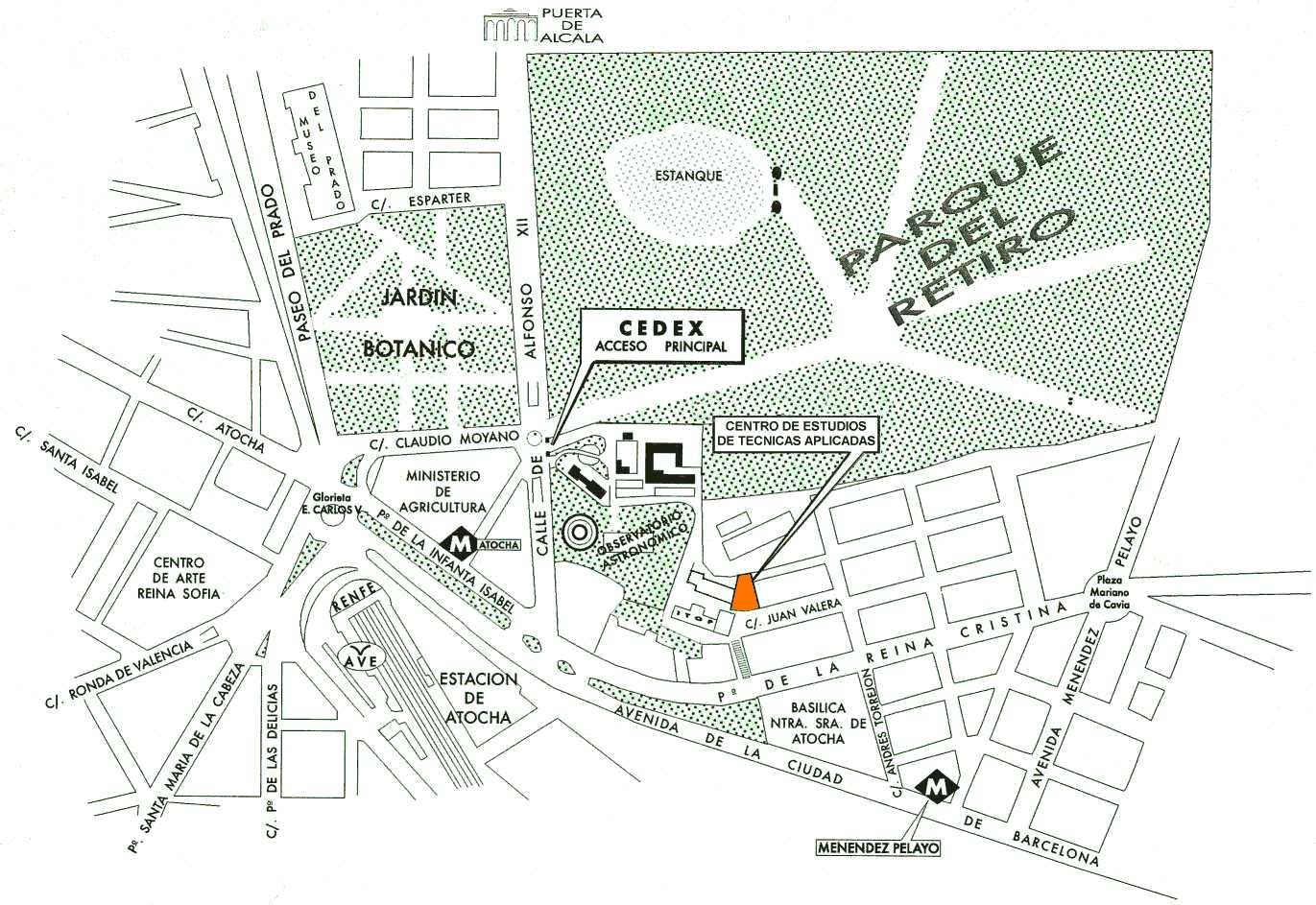 Map on the web
How to get to Atocha from the airport
Metro:
Madrid's Barajas Airport has Metro stations in Terminal T2 (floor 1) and Terminal T4 (floor -1). Trains leave every 5 minutes from 6.00am to 2.00am. You should board the metro in line 8 (fucsia line). Take the metro towards "Nuevos Ministerios". There you should change to the "circular" line (grey line) towards "Cuatro Caminos" (only one stop). In "Cuatro Caminos" take line 1 (light blue line), direction "Valdecarros", down to "Atocha Renfe" the metro station where the Atocha Railway station is located.
You may download the metro map of Madrid in PDF format from here.
Bus lines:
24 hour Airport Express bus: which has only 3 stops after the airport: O'Donnell, Plaza de Cibeles, and Atocha (this last stop only during the daytime hours between 6 am and 11.30pm). The buses run every 15 minutes during the day and every 35 at night, and the journey takes approximately 40 minutes. Tickets cost 2 euros and may be bought on board. There are stops at terminals T1, T2 and T4. More information here.
Trains:
The "Cercanias" (local train network) connects Barajas Airport Terminal 4 station to Atocha station through the C-1 line. Trains depart every half hour from Terminal 4, floor -1. (Terminals T123 can be reached by shuttle buses.) Takes 25 minutes and tickets cost 2.15 euros.
Taxi:
To take a taxi, you need to go to the appropriate taxi rank. No attention should be paid to the unofficial taxi drivers offering their services from within the terminals. The fare from Barajas airport to the centre of Madrid is generally between 30 and 40 euros.
Connections between terminals:
There are free shuttle buses to transfer passengers between terminals.